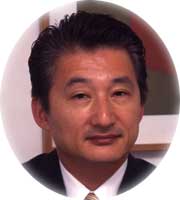 Born in 1947. Graduated from Waseda University, Department of Science and Engineering, with a major in computer science and communication engineering.
In 1972 he became the editor of the monthly Steel Design magazine for Nippon Steel Corporation.
In 1981 he joined Kyoikusha Co., Ltd. and served as the managing editor of Newton magazine from its inaugural issue. He also served as the chief editor of the Japanese version of Nature Bio/Technology magazine, as well as general manager of the publishing division.
In 1997 Mr. Terakado founded Newton International, Inc. Newton International, Inc. was renamed as SCIENCE WEB, INC. in 2003. The company's primary activities are to plan, produce, and supply digital science content; visual production in the field of science; website production; and the promotion of tie-ups with foreign research organizations and companies. The company is also involved in the area of copyright concerning foreign publishers. Mr. Terakado is currently the president of SCIENCE WEB, INC.
Mr. Terakado is also a science journalist and a TV commentator. He is active in promoting science education in Japan, as well as being a senior researcher of Japan Space Forum.
His main fields of reporting include wide areas such as space development, astronomy, planetary science, molecular biology, genomics, advanced medicine, global environmental issues, paleontology, and technology in general.
Among Mr. Terakado's major journalistic reports are the first authenticated report on AIDS in Japan, the first visit to the Russian Space Center by a Japanese science journalist, an analysis of the Challenger space shuttle accident, and the release of U.S.-Russian secret plans for space. More than a few of Mr. Terakado's reports have created a major sensation.